Designed to provide any business with a more secure and space-saving option for storing glass, china, or other items. These containers are ergonomic, making it easier for you to hold the crates without any accidents.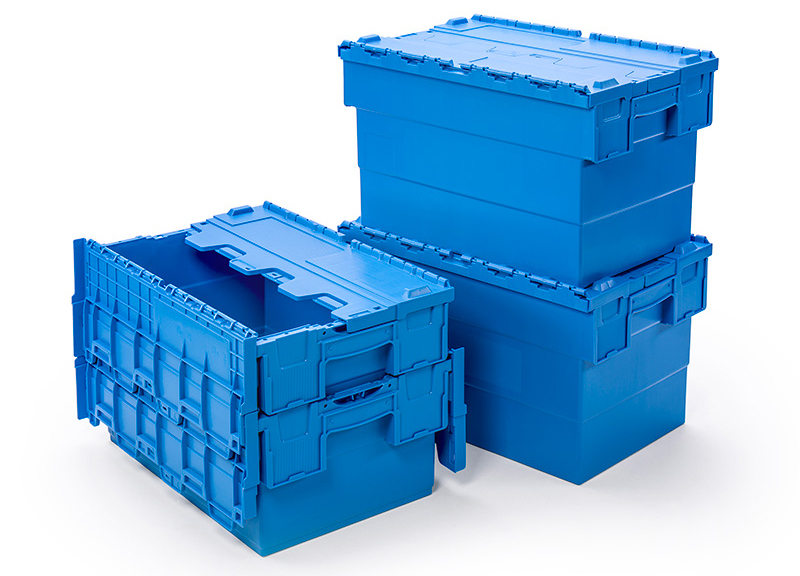 The boxes are heavy-duty and can be stacked when full, or nest when they're empty. You can save up to 78% on space, whether you're storing goods or transporting them to a different location. 
Made from polypropylene, our products can withstand terrifically cold temperatures and the heat too. They have an impressive temperature resistance, ranging from -20°C to -80°C. The best part is that these lidded containers are also durable and impact resistant. So, whatever you're storing will be protected from breakages, dust and dirt. 
They come in a range of sizes, so there's bound to be something to suit your needs. Containers start with 24L capacity and rise to 33L, 48L and 62L. Made in Germany, these boxes can be as light as 1.5kg or as heavy as 3.4kg...if you opt for the larger box. 
The heavy-duty Attached Lid Container is made from food-grade polypropylene, so your food is kept both hygienic and protected from knocks and bumps. They're impact resistant and robust, so there's no need to worry about protecting your stored goods. We guarantee it. Tamper-Evident Seals are also available. So, you can be confident your products are kept safe from theft and damage. This is especially useful if you're transporting goods with a high value. 
Most of our products can be personalised with your own logo. We have a helpful in-house print department who can talk you through the process. With impressive lead times, you can even have your products branded with thermal transfer prints. But you should note, there's a setup fee per box style and size. 
Alternatively, brand your Attached Lid Containers with vinyl labels. You can buy these in packs. These stickers can be applied to many of our boxes, and it's a simple way of personalising your storage containers without breaking the bank. Just email us your artwork to sales@caterbox.co.uk quoting your order number, and we'll be happy to help with that. 
If you're transporting large quantities of stored goods, you can be confident that our Attached Lid Containers are stackable. Not to mention, they can be easily moved with our Transport Dolly Trollies. You can transport multiple boxes at once, which massively reduces the chance of any breakages. It'll save you effort, time and you won't break a sweat!
For more information on our Attached Lid Containers and all our other products, give us a call on 01962 711007 or chat online with one of our customer care staff.