Do you fantasise about the ideal way to keep your glassware, coffee mugs, and water bottles organised in your kitchen? We looked into how individuals preserve their delicate glassware in unusual ways and have the glassware storage solutions for you here.
The most important consideration when storing wine and cocktail glasses, glassware, coffee mugs is to avoid breakage and dust. This means you'll either want to keep them on a safe shelf or in a wine glass storage box, or you'll want to utilise a stemmed glass hanging system. In this blog, we will share some of the best glassware storage containers/boxes to make your work easy and hassle-free. Let's have a look at it.
Glassware Storage Boxes -
Our most popular glassware storage boxes range, with the most incredible heights and sections in the UK. More glasses per carton means more storage space and less handling. All sizes are in stock and may be delivered quickly.
Key Features:
L510xW350mm - External Dimensions.

Stackable

Durable

Food-Safe

Lightweight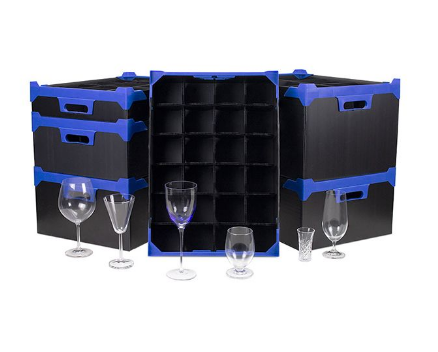 Price: £11.40 Inc VAT
Glassware Storage Containers -
Glass Wash & Store Crates -
Glass Wash & Store Crates with Top & Bottom Dividers
Dishwasher Glass Racks FRIES 500mm
Glassware Storage Containers (400x300)