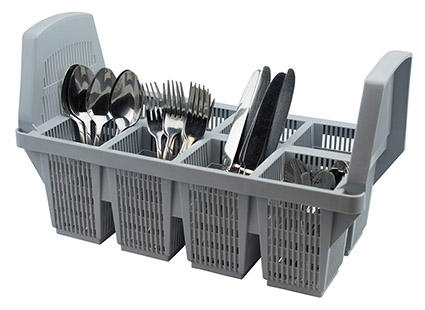 At Caterbox we supply a huge choice of different storage and transport boxes for catering equipment together with dishwasher boxes and baskets that will take care of all your cutlery, glassware, plate, cup, mug, and other requirements. Whatever you need to do with your catering equipment, we have a solution for it.  
For example, if you need to store, transport, or wash cutlery, we have the answer. Maybe you just need a single cutlery basket in which you can place cutlery for washing in the dishwasher, or maybe you need more room. If it is the latter case, we can supply a four-compartment basket, or the Classeq ware washer cutlery basket which has eight compartments. 
Then there is our 500mm x 500mm dishwasher basket for cutlery which has an open profile design which ensures perfect washing and rinsing along with quick drying times. This basket is designed to pass through both conveyor dishwashers and commercial dishwashers, and you can also use it for housing our dishwasher plate racks once the cutlery is done. 
We also have a cutlery storage tray which is stackable and has four large compartments which are easy to clean. This is a really strong cutlery tray which is able to handle the use and abuse it can get in canteens and schools. The ergonomic design also makes it perfect for self-service. Because it is stackable it will save you a lot of storage space in a cupboard or on a shelf. At only £9.00 including VAT this tray is really inexpensive too. 
You will need somewhere to store your plates, and we have a choice of designs here. We can provide solid plastic plate boxes, ventilated plate crates, and slotted plate boxes in which you can store your plates vertically, making them easy to come to hand and taking up very little space. The ventilated storage crates can be provided with inserts enabling the storage of side plates, cups, saucers, dinner plates, and bowls as required. All of the inserts are interchangeable, so you can use the same storage crates for any number of different items. They can also be supplied with place on lids and we can provide a transport trolley or heavy-duty dolly trolley for moving them around your canteen or kitchen. 
In addition, at Caterbox we can supply a glass washer rack 400 which is suitable for 400mm glasswashers. This uses the well-known Fries rack system and it is durable and stackable. There are a choice of different heights and compartments dependent upon your needs. Since they can be adapted to the size of your glasses, they result in superior washing and handling and result in fewer breakages. 
For all your catering equipment handling and storage needs, call us on 01962 711007 or email [email protected].