As the UK's official stockist of the world-leading Fries Rack Systems, we wanted to share with our readers what these outstanding Dishwasher Racks have to offer compared to the conventual glassware racks on the market - such as Cambro Racks and Vogue Racks.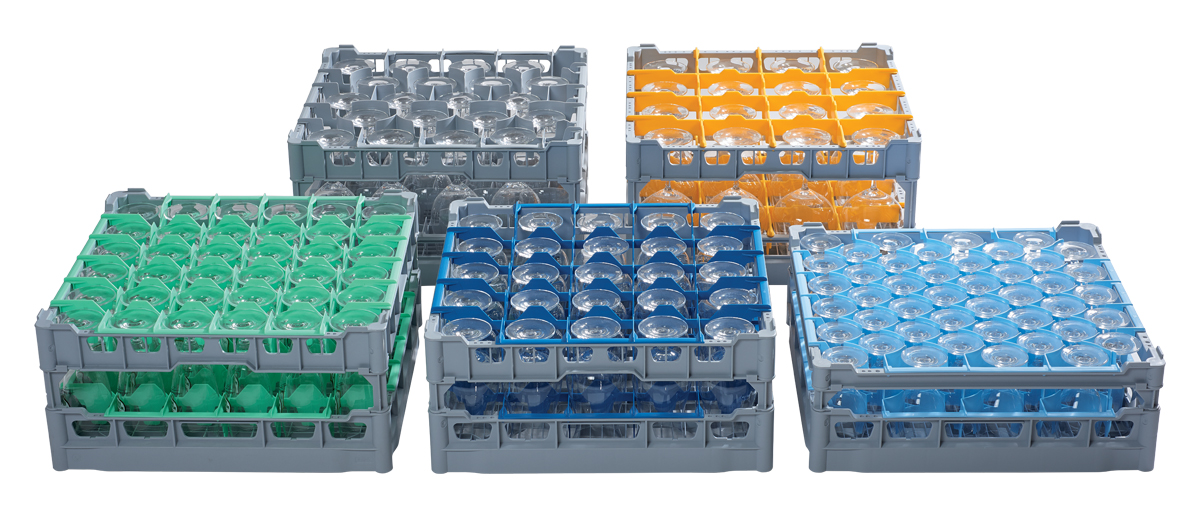 So, why is the Fries Rack System the world-leading rack?
There's no simple answer to this question, many factors support these fantastic glass racks claim to the title. As word of mouth is very important in the hospitality sector, where better place to start? Fries Racks have become the No. 1 choice of ware washing equipment in the European Catering and Event Industry. They've been recommended by the leading dishwasher manufactures Meiko, Classeq & Hobart as they outperform other racks on the market on every level.
After years of talking with our customers about the issues they face with conventual racks, we've gained a clear picture of why Fries Racks came out on top
1.    OPEN DESIGN
FRIES RACK SYSTEM
The Fries Rack System offers a unique open design to allow optimum water and airflow during the wash cycle. Maintaining exceptional hygiene and producing outstanding wash results, little to no polishing is required.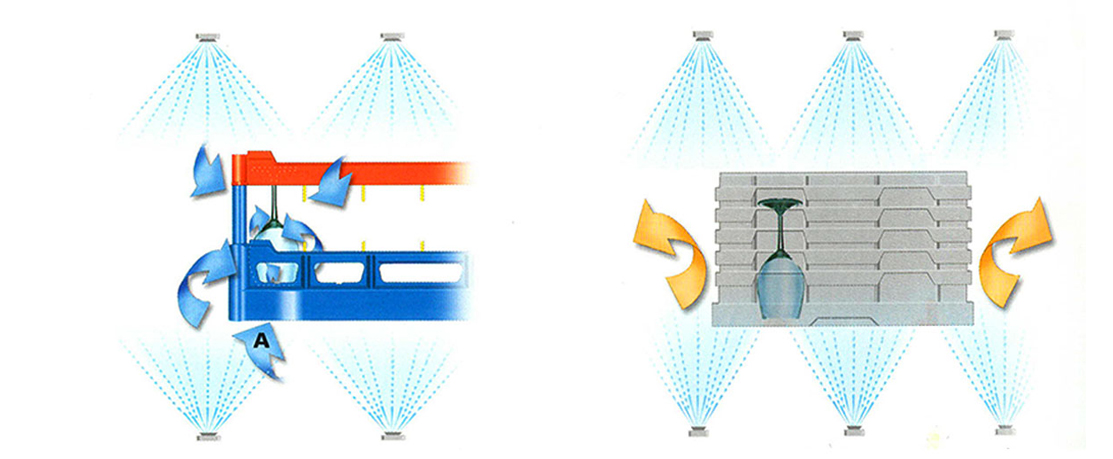 CONVENTIONAL RACKS
Everyone knows that glass racks are designed to wash, store and transport glasses. Organizations have been using conventional racks for years to improve handling time - reducing breakages as a result. However, wash results are compromised because of their closed wall design.
Excellent drying
Residue-free rinsing results
Exceptional hygiene
Less polishing 
CONVENTIONAL RACKS
Up to 75% of glasses in a rack will be sitting in the outer compartments against the closed walls, where the poorest water penetration occurs.
The air and water circulate far less efficiently, so the end results are unsatisfactory and unhygienic.
Steam cannot escape the rack in time, causing condensation to occur.  
Residue water is left inside the racks after washing causing unpleasant odours and mildew, conflicting with Pan - European hygiene standards (HACCP)
Rewashing & repolishing are often required.

This is a big compromise to make as the time saved on handling is then spent rewashing and uses up more water and energy in the process. The investment made streamlining processes becomes a complete waste of time and money.


2. OPEN-SIDED COMPARTMENTS

What's the toughest part of the glass to clean? The rim, would you agree?  Lipstick marks are a pain in the back for every cleaning department, with waiters relying on them to produce sparkling glasses ready for the tables.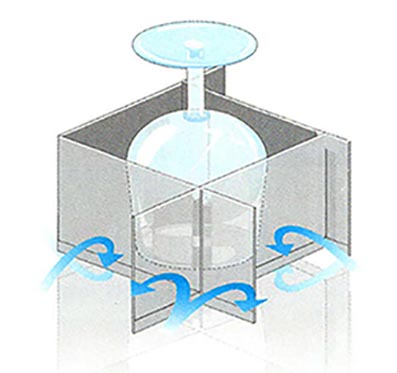 Fries Racks open corner and open sided compartments help tackle these hard to clean areas. Glasses are washed thoroughly, the results are clean and smear free.
CONVENTIONAL RACKS
Conventional racks are less effective on this front, since water is unable to penetrate closed sided compartments.
Results are disappointing, and rewashing is often required producing higher operational costs instead of crystal clean glasses. 


3. IT'S ALL ABOUT THE BASE
There's no trouble here! The strong rigid surface of the Fries Rack System's strengthened double base supports and protects items during the wash process. The racks underside is uniquely strengthened to:
Provide extra stability and retain rigidity
Aid movement during the wash cycle so the rack and contents move smoothly together

CONVENTIONAL RACKS

With a smooth unprotected rack base, the rims of the glass can be damaged by the transport hooks of the dishwasherpenetrating the base as the rack moved through the wash system.The single base is thin and flimsy causing more glasses to break during the wash cycle.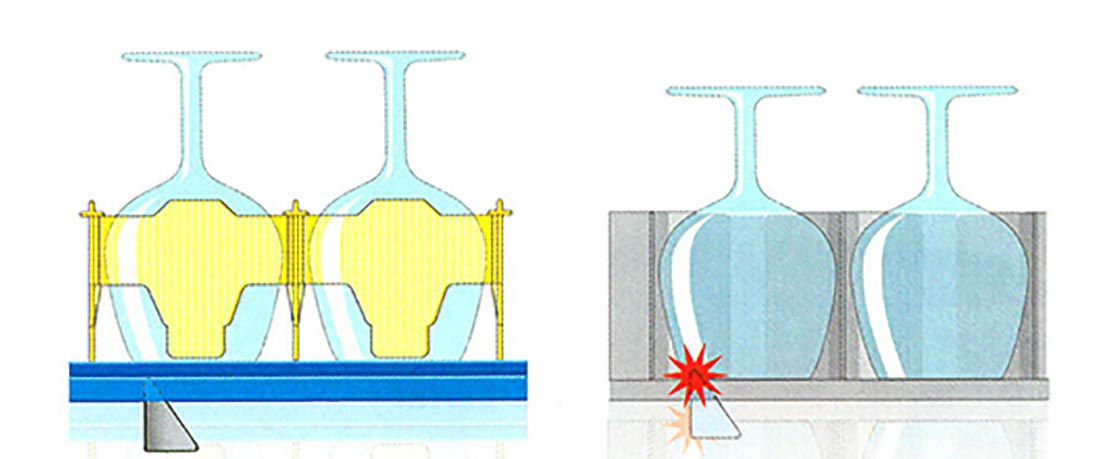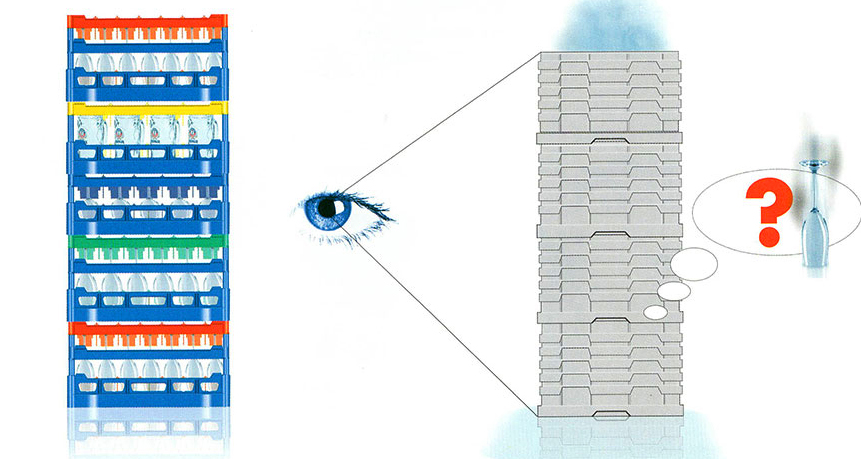 How much time do you spend tracking down stock? With mountains of storage to look through it can be a long-winded process, which most probably is reflected in your price list.
Storing and finding the right rack is easy with the Fries Rack System. It's colour coded racks will make your inventory operations a dream. Other printing options are also available to complement this fantastic system; we can brand your racks with company logos or contents labels for even easier identification.
CONVENTIONAL RACKS
A closed wall, single colour rack range makes tracking down the right glassware range a nightmare. Time-consuming searching and unnecessary handling of racks and glasses make stock checks long-winded and complicated.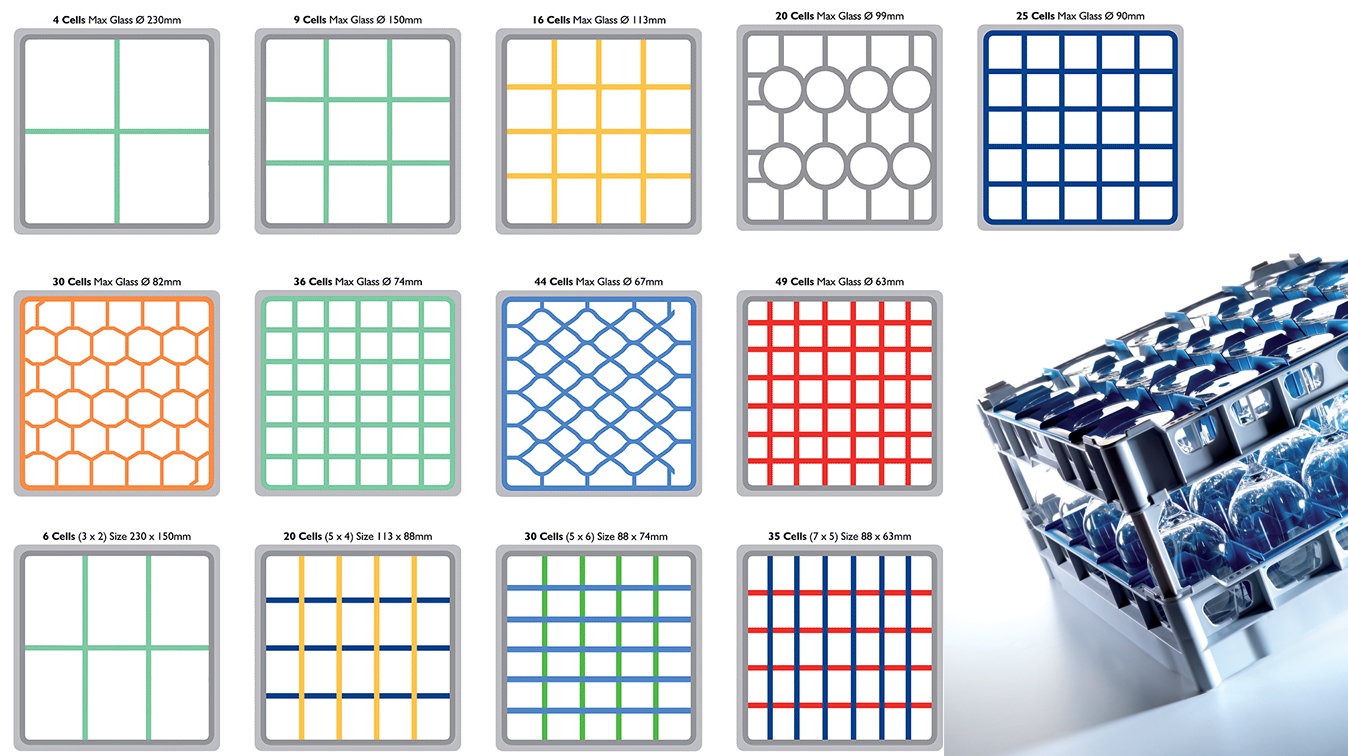 The Racks open design gives a clear view of the glasses sitting inside for even quicker stock recognition.
5. STORAGE SAVING SOULTION
Fried Rack Systems have an extensive range of compartment options which maximise the capacity potential, fitting as many glasses possible in one rack. This will reduce the number of racks needed, saving on the initial cost of purchasing the racks. But the saving doesn't end there, using the Fries Rack System saves on: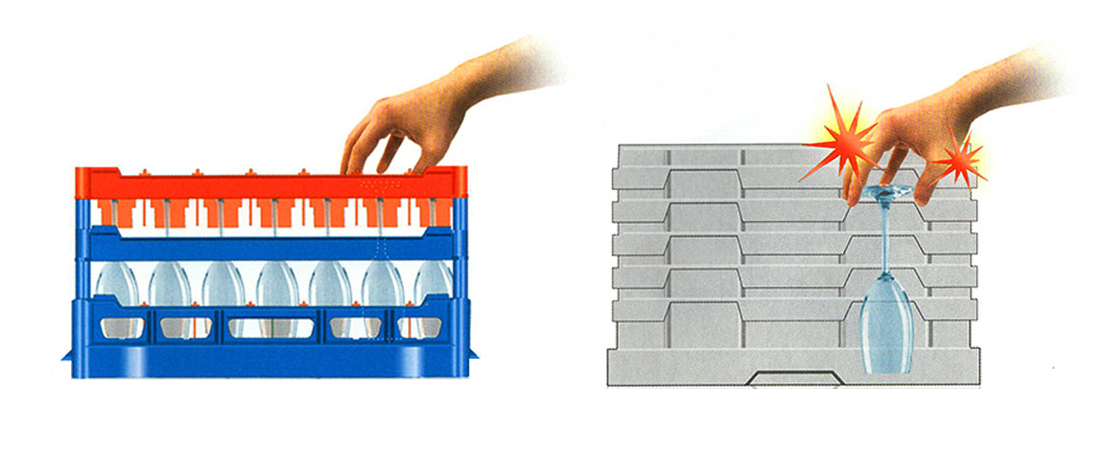 ... And what's more, the Fries Rack System accommodates every 15mm glass height. So, you can choose a rack to complement the height of your glass - helping you make even more savings on storage space and transport costs.
CONVENTIONAL RACKS
Conventional racks are limited on compartment and height options, causing inefficiency within operations and storage. To add to this inefficiency, time and money is also lost due to:
Glasses are generally located too far down in the rack, making it difficult to take out                                              
Increased breakages due to difficulties inserting glasses.
6. HANDLING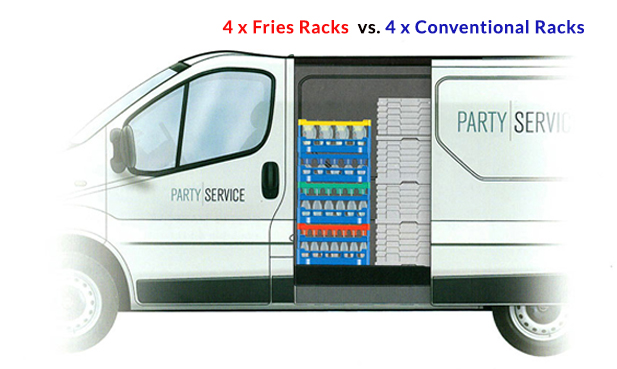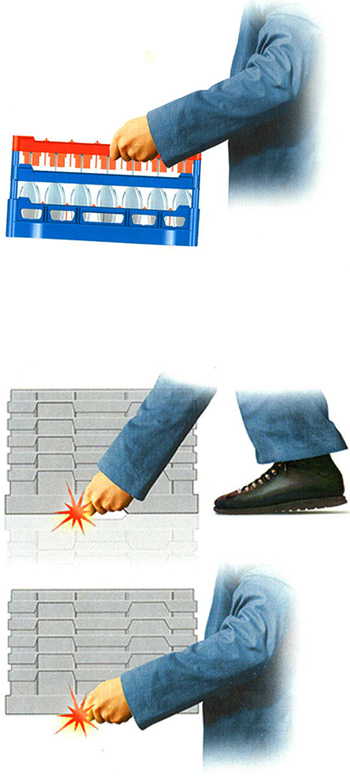 FRIES RACK SYSTEM
Being an open rack, it is so much easier to lift as they can be held in multiple places. As there is less plastic used in manufacturing these Dishwasher Racks, it is much lighter. This is a big help when the rack is fully loaded with glasses.
CONVENTIONAL RACKS


The Conventional Rack is not so versatile. It will generally have a single grip at each side of the base which can make it difficult to get the grip required to lift a fully loaded rack from the floor. As the weight is above your hands, it can prove difficult to carry safely - causing discomfort.

Wash and go, racks are designed to wash and store with no time wasting unpacking and repacking glasses
Space saving, approximately 10% less space required
Easy and safe for staff to use
Effective stock management.
The 500x500mm Compartment Dishwasher Glass Rack Range is manufactured in Austria and stocked at Caterbox Winchester, Hampshire, UK. Free Next working day delivery on online orders over £299.
The Accessories


Transport trolley to move racks about in stacks and
Drip tray for trolley and bar tops for catching excess liquids when loading dirty glasses back into the racks.
Need help purchasing your fries Rack System?


Complimentary glass measurement card available on request to help select the perfect glass rack.
For more information or to request a catalogue, give us a call on 01962 711007 or email sales@caterbox.co.uk. Our team have a wide and comprehensive knowledge and are very happy to assist you with your questions and requirements.