Caterbox's has now teamed up with Fries Racks to supply the UK with the world's best Dishwasher racks, our Stackable Glass Racks are the best on the market to date, with their unique open design offering super-efficient circulation of hot water and drying air to give you clean, crystal clear glasses.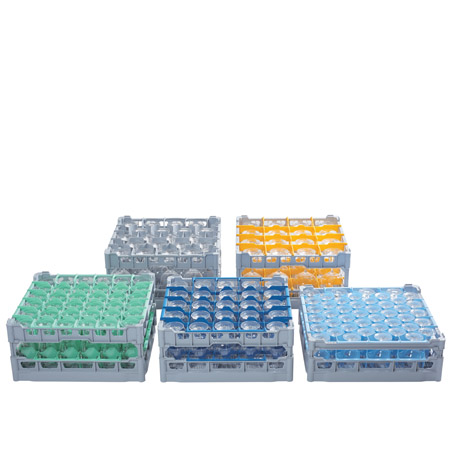 Also known as click racks these trendy high speck racks do wonders for your glassware and look fantastic too. The racks have colour-coded cells to indicate the number of compartment it holds such as a 49 cells in red, 44 cells in blue and 36 cells in green etc. This is such a time saver, simple, but genius! Made from a special injected polypropylene, Fries Dishwasher Rack compartments make a soft and protecting environment perfect for washing, drying, storing and transporting without breakages.
The world's only dishwasher rack that can accommodate every 15mm glass height. Our Click Racks give a perfect solution to washing, drying and storing your glassware in a space-saving & time efficient manner. Caterbox's Dishwasher Racks are purpose-built to offer full protection to glassware whatever the height or shape of the glass.
Another crucial benefit to these racks is the ability to change in-line with your new stock. In the event of glassware range changing these racks can be modified by changing the extenders and cell slots to fit the height and width of your new range.
Storing and finding the right glass is easy thanks to Fries Racks open design. Colour coded frames and clips make placing & finding glasses in the right rack easier than ever. This overcomes all issues of the conventionally closed racks, saving time and avoiding potential breakages in the process. We can even print your companies name or logo on to the clips. What more do you want from a Dishwasher Rack!!
The benefits of this 500x500 inter stacking Dishwasher Racks are endless. Caterbox is so excited to be able to offer this to our customer as we fully believe in this product and we know you will too. There is no other Dishwasher Rack that can compete with its versatility, quality, performance or design.
Up to 75% of the glasses are located in the outer compartments, unlike other racks the Fries Rack System is open at the sides, allowing water to wash and rinse the glasses at the edge of the rack as efficiently as those in the centre. This gives a thorough clean and smear free finish, with open sides and corners the fries rack ensures the glasses are washed perfectly without residue left on the rims.
These Dishwasher Racks are designed with a strong double base to ensure that each rack and its contents move smoothly throughout the wash and rinse process without damage. 
25% off your first online Fries Rack order with Caterbox!!!
Why have a storage box and a dishwasher rack when you can have one multifunctional rack that outperforms both. Making life so much simpler, freeing up your time, space & saving your money–perfect! All you need to do is measure your glasses with our easy to use sizing chart and order online to get 25% off your first order! Give our team a call today on 01962 711007 for a free Fries Rack sizing chart.
We can caterer for any caterer!! Here are just a few products from our extensive Dishwasher Rack Range.