Euro Stacking Containers are relied upon by many industries requiring a storage solution that's up for the job. Euro Containers get their name from the ability to stack upon and fill a Euro-pallet measuring 1200mm×800mm. They come in a variety of sizes for multiple applications and uses, also compatible with ISO pallet dimensions.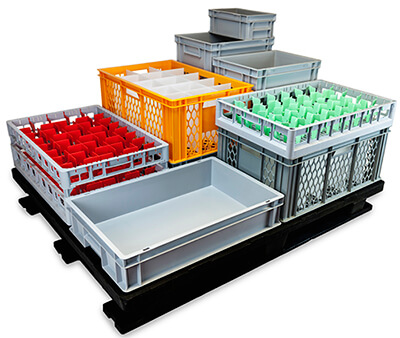 These commercial storage boxes are stackable and highly durable, they can store and transport almost anything such as industrial, automotive and engineering components or catering equipment, food and drink. Euro Containers are made from a food-safe Highly Dense Polypropylene (HDPP). Easy to wipe clean and suitable for dishwashing, making an ideal heavy-duty and multipurpose storage box.
Standard Euro containers sizes are 200 x 150mm, 300 x 200mm, Half Size 400 x 300mm, Full size 600 x 400mm and 800 x 600mm.

All sizes are compatible with each other, so stacking multiple sizes together is very easy. Unlike general-purpose storage boxes, Euro Boxes have strengthened corners so when fully loaded they can be stacked up high with no risk of collapsing or snapping. Deeper containers have reinforced bases for extra durability whilst holding oversized and heavier items securely.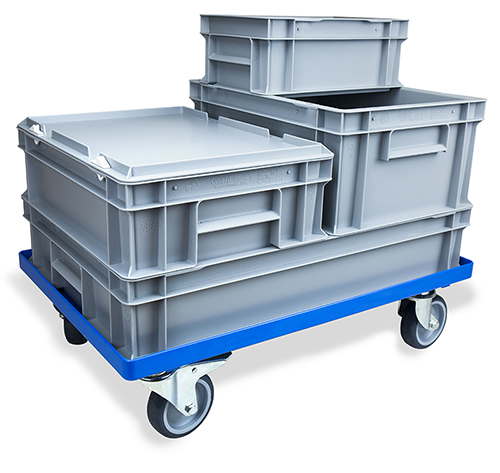 600 x 400 Euro Dolly's & Euro Transport Trolleys are used for moving fully loaded Euro Boxes around with ease helping streamline stock handling and increases productivity.
Euro Dolly's are very easy to use and helps moving heavy loads around the storeroom and whilst out on site easy. Trolleys have 4 swivel castors and come in red or blue with brakes.

Caterbox is the UK's Glass & China Storage Box Specialist and has an extensive range of Solid Plastic & Ventilated Euro Stacking Containers in stock for quick delivery.
Protective box dividers can be added to segment and protect multiple items such as glasses, chinaware, bottles and engineering components safely and efficiently.
The extensive range of Full-Size Euro Boxes & Half Size Euro Containers with height up to 420mm helps minimise space waste whilst the boxes are stored or transported.
Boxes are made in Germany using an industrial quality highly dense polypropylene plastic with multiple lid options that are compatible with the stacking functions of the Euro Crate Range.
Lid options explained 
Place on Lid simply drops on to the top of the box.
Hook on Lid hooks into a hole on the boxes rim to create a lidded box, which can be removed when required.
Hinged Lid is permanently fixed to the container; Snap lock clips also available to seal the box closed.
Also Available - Euro cases, with click-close lid and easy-carry handle to keep contents secure whilst in transit.
Get it Branded - Caterbox's in-house box branding service adds a touch of personality to your Euro Storage Boxes and helps your brand stand out to become the centre of attention!
To place your order or for more info - Get in touch with our helpful team on 01962 711007 or [email protected]