NEW

 Plate Wash & Store Crate Range
Don't let it stack up. Pack Protect, Wash & Store 
Part of the latest innovative product range designed and created by the UK's chinaware storage specialist, Caterbox®. These Protective Chinaware Storage Solutions will streamline your washing and distribution operations whilst keeping plates safe and clean. The Plate Wash & Store Crate has Large Vents throughout the design to help promote Superior Water & Air Flow & with Reinforced Base & Walls you can be positive you're receiving a strong & durable lifelong product.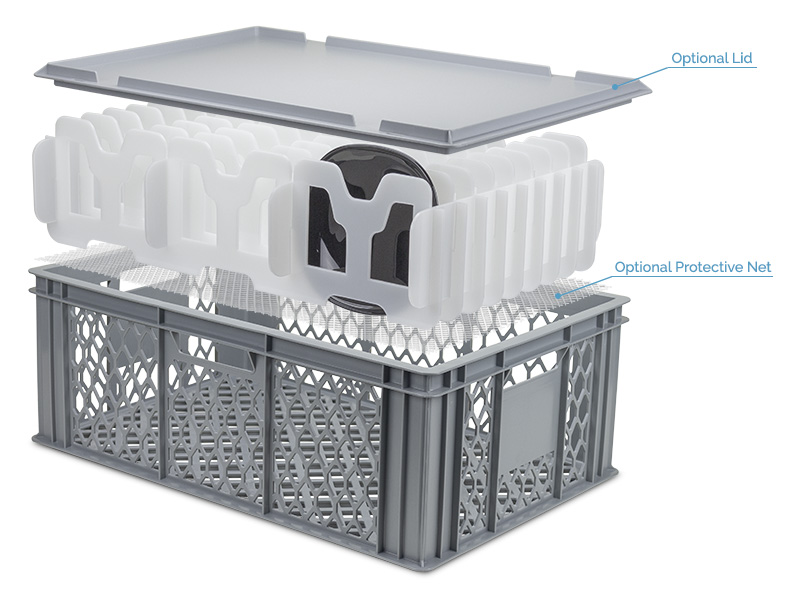 Open crate and dividers for superior water & air flow
Wide range of crate and compartment configurations to maximise your storage space
Crates Stack for improved storage and transportation
Easy stock visibility for improved stock management
Custom printing available 
Optional anti-bacterial net layer - prevents plates from chipping and reduces movement
Optional transport trollies - streamline moving your  goods, and increase productivity
Compromising of 6 different heights & several compartment sizes per height you can be sure to find the perfect Crate for your plates & crockery. The new unique design delivers maximum protection, that, partnered with the Efficient Wash Design ensures your plates get the best wash & dry they have ever seen. The dividers used are made from an unbreakable, yet flexible food-grade, dishwasher safe & recyclable material.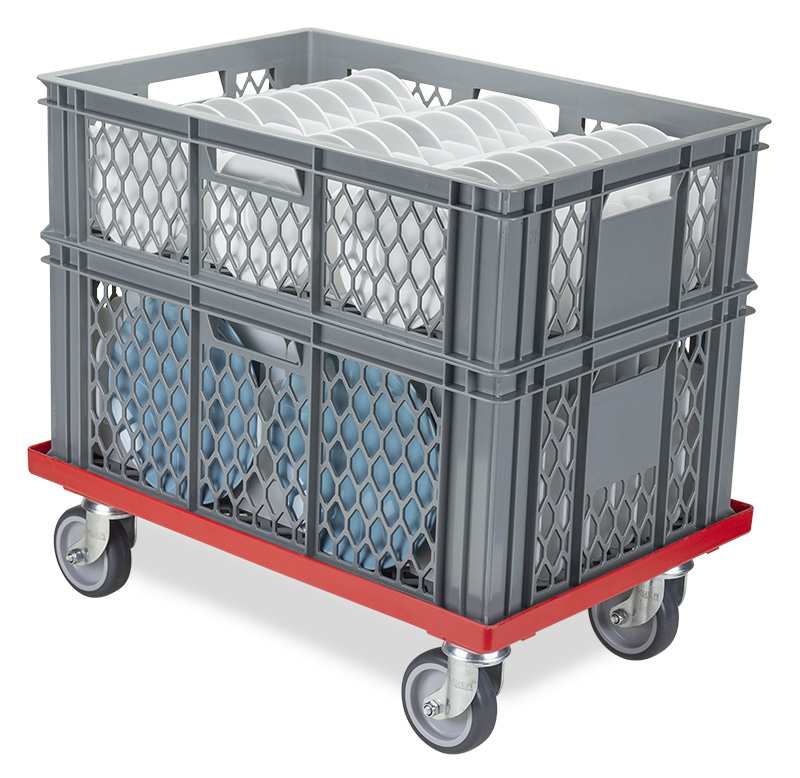 With individual compartments, your plates are Well-Protected, easy to load & unload and with a 'Set amount Per Crate' you can be sure of No More Over-filled & Damaged Crates. Once your plates have been loaded no more handling is required from your team making this a minimal contact solution. As you know the Euro Crates dimensions means it is inter-stackable with the rest of the Euro Range which means Maximising your Storage Space. 
Store & Wash your plates with little or no handling involved. ONE CRATE DOES IT ALL. The slotted plate box design means that all high-value chinaware such as vintage tableware and decorative plates have the protection they need whilst in-store and on the move. Finally, due to the large Ventilation throughout, Visibility is Improved meaning you can count & identify your goods with ease, no more unnecessary moving of your stock, Less Handling means Fewer Breakages!
As always we have a comprehensive range of accessories designed to work with our Plate Wash & Store Crates to fully maximise protection, improve hygiene and reduce handling even further!
Anti-Bacterial Net - prevents plates from chipping and reduces movement whilst in transport.
Place on Lids - reduced access for dust into the crate and helps optimise stacking ability.
Transport Trollies - streamline moving your goods, and increase productivity.
Printing - add a touch of personality to your crates with your company branding thanks to our in-house box branding team.

Need Assistance? For more information please contact the team on [email protected] or call 01962 711007.