At Caterbox, we provide storage solutions for every kind of crockery you could imagine. Our Conveyor Racks for storing glasses and cups are the most versatile racks on the market and suit virtually every type of catering business. We have more than 30 years of experience providing storage solutions to the UK market. We specialise in warehousing china, crockery, cups and plates. 
Our Conveyor Racks are no exception. 
They're hardwearing, easy to stack on top of each other and come with handy colour-coded compartments.  All our racks work alongside roll cages, UK and Euro Standard pallets. The base is a solid 600x400mm and is dishwasher friendly. In fact, the entire frame boasts efficient wash and dry technology specifically designed for conveyor washing. Not only that, our racks come recommended by leading dishwasher manufacturers.

The Fries rack system on our Conveyor Racks is fantastic. Their stylish and straightforward open design allows hot water to access the whole of the rack evenly. So, you can be confident your glasses and cups will come out squeaky clean and sparkling. 
Best of all, these racks come in different sizes, from the Click Rack Base with 40 cells, to The Conveyor Washing Rack for glass height 285mm. There's no need to worry about how sturdy these racks are either. Each rack divider combination is made from a specially injected polypropylene, giving each compartment a protective fit. Rest assured, this rack will securely hold glasses and cups of any size. The Conveyor racks are easy to carry, with discreet side slots for you to grab when lifting them out the dishwasher. 
And there's no minimum order either, although we do offer discounts when customers buy in bulk.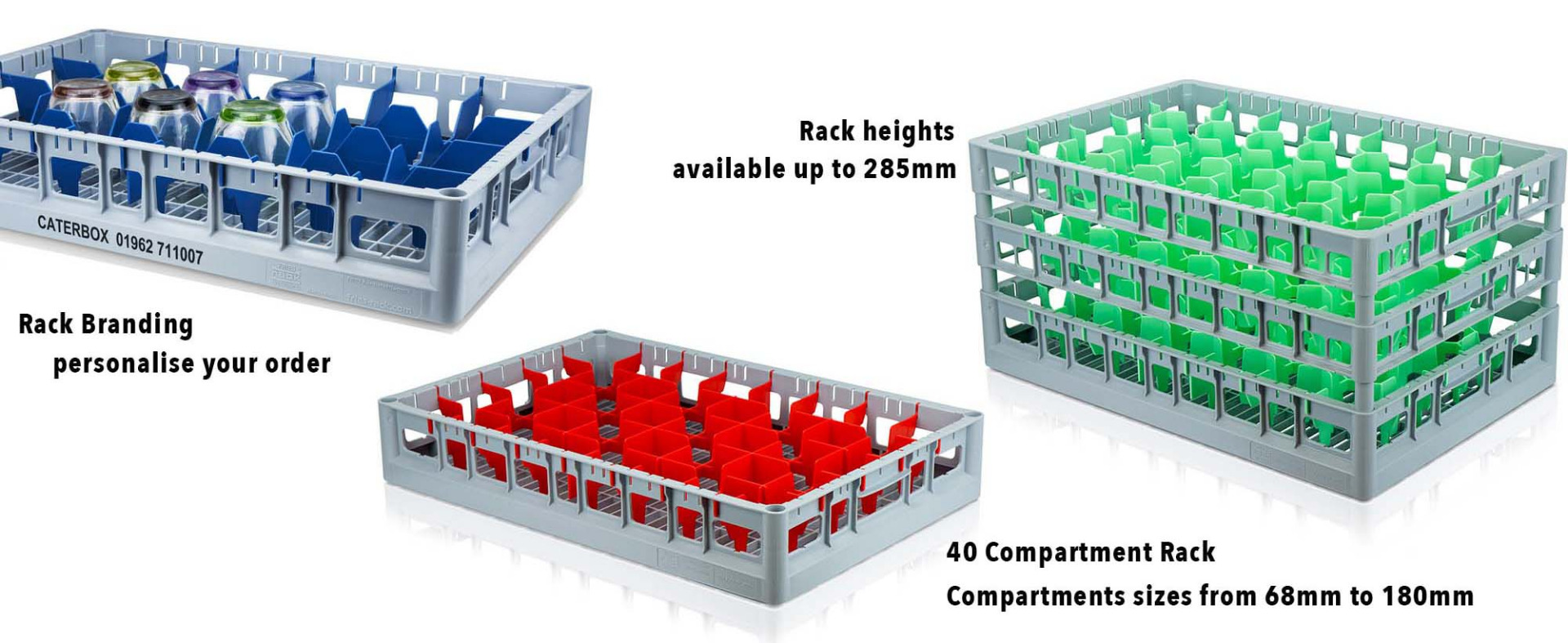 Any caterer worth their salt will want to get their hands on these Conveyor Racks. Whether you're a restaurant, cafe, pub or private caterer, our Conveyor Racks are the perfect addition to your glass storage solutions. We can even have our Conveyor Racks branded with your businesses logo. 
You can buy your Conveyor Racks from us fully assembled, or as individual components. The choice is yours. If you're not entirely satisfied, don't worry because Caterbox offers a price match promise. So, if you find a like-for-like product for less, not only will we match it, we'll lower it by 5%. 
What's not to like about that? 
Read more about the different types of products and conveyor racks we offer.