When you have a business that requires you to run any sort of event, whether it's a competition, an annual general meeting, a presentation of your products, a dance class, a history lecture, or anything else at all, you almost always have a lot of "stuff" that you need to transport to the venue in which it is being held. Even if it is held on your own premises, if it is not a one-off, there will be things that you need to store and re-use. If you hold the event four times a year or only once a year you need to be able to access all the bits and pieces that you need quickly and easily.
Of course, the more events you hold the more "stuff" you have. These could be notepads and pens for attendees, lanyards for your staff, booklets, small samples of a product, and much, much, more. 
The simplest way to store many of these items in between uses is in boxes, and what sort of boxes you use will depend on what they are, how big they are, how heavy they are, how often you need to transport them, and so on. What you can be sure of is that you need containers that are strong enough to hold all the items and that won't get damaged during transport. You may also need to ensure that the items to be stored and transported are kept in hygienic conditions, which means that they will need boxes with lids.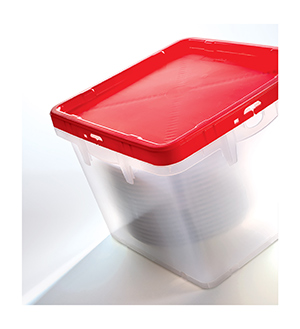 For example, if you operate an outside catering business, you may need things like crockery jack boxes in which to transport plates, cups, saucers, glasses, cutlery and so on, and these items can be quite heavy when you put them all together. You also want to be able to store them in an effective manner and this means using the minimum amount of floor space, so you want boxes that are not only strong but are also stackable so that you can store one on top of another. This way, they take up far less storage space and also less space on a van that you are using to transport them.
Saves Space 
You might also want to use nesting boxes which allow you to nest the empty boxes one inside another, and this also saves a considerable amount of space if you are taking full boxes to a venue and bringing them back empty. You can save as much as 75% of the space they take up when full, so if it took four vans to deliver them full, you would only need to use one to bring them back, saving fuel and driver time.
Storage of items that are used often needs planning in order to ensure that you use the best type of storage boxes for your purpose.